Time and Attendance - Courtesy of Secured Payroll Partners (SPP), Inc.

Attendance on Demand... Tell me more!

Attendance on Demand is a time and attendance service that calculates hourly or salaried wages, manages employee time and wage data, and meets the needs of any sized organization.

Time and attendance services provided by Secured Payroll Partners (SPP) track employee working time while maximizing labor dollars. They automate employee timekeeping from the employee punching at a time clock to the employee's total hours being sent to payroll.
Attendance on Demand Demo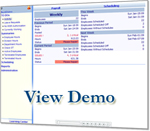 SecuredClock... Tell me more!

SecuredClock is an online electronic time and attendance solution for all businesses, large and small.

It combines the convenience of online access with the familiarity of a conventional wall-mounted time clock and PC for time data collection. Our service is entirely online, so there's no software to buy, install, or upgrade. The SecuredClock solution defines practicality in today's timekeeping industry. Our TimeClock™ is easy to set up - just plug it in and begin punching. It's also easy to use - simply punch in and out with the push of a button, swipe of a card, through a finger verification scan, or online through your PC.

The SecuredClock solution was designed with "everyday people" in mind. There is NO software to install, and you can simply view, edit, and run reports right through your Web browser. Our web-based server automatically does all the collecting, calculating, processing, and reporting quickly and accurately.
SecuredClock Features Demo